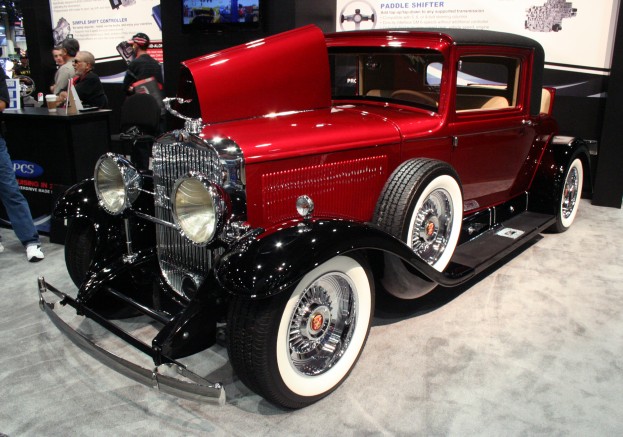 HOT ROD caught sight of this 1930 Cadillac at SEMA 2013 and had to take a second look. Hot rodding traditionally embraced the cheap and plentiful, but it also incorporated the powerful. In hot rodding's infancy, Cadillac engines (along with Oldsmobile's and Chrysler's) were among the most popular due to their high compression and horsepower, so a hot rod Caddy may not be so unusual. This one most certainly is.
Dennis Rostenbach is the owner of Rooster's Rod Shop, a restoration shop in of Gaffney, SC. He picked up this Fisher-style #30-158 two-passenger coupe (which listed new for $3,295; compare that with a Ford Model A coupe for about $400) and went with a vision that mated stately elegance with modern technology that allowed this Depression-era luxury car to ride and drive like a modern one.
Starting with a custom chassis with six-inch frame rails, Dennis then installed a Heidts front suspension with a four-link out back. Also out back is the popular Ford 9-inch with Eaton Detroit Truetrac limited slip differential.
The 18 x 8 custom wheels were made by Circle Racing Wheels and remind us of the Eldorados from the 1950s while not looking the least bit anachronistic. The custom cues continue with a CNC'd step plate that leads to an interior that pampers you in fine Australian parchment leather.
Cadillac was the first company in the world to mass-produce a V-8 motorcar, so a blown CTS-V LS motor was the logical choice – no Flatheads here! It's hooked up to a 4L80E four speed automatic with a six-speed valve body courtesy of Powertrain Control Solutions (PCS); it has an unusual feature where a solenoid enables electronically controlled engine braking (perfect if you are building a car equipped with paddle shifters or a vehicle for hauling).
Dennis painted the classy Caddy with a custom mix called Ramblin' Red, while the fenders and running board is simply PPG Deltron DCC700 gloss black.
If there every was a hot rod that truly was "Standard of the World," would this be it?